3D Printer Failure Detection - All You Need to Know
· 9 min read
3D Printer Failures/Courtesy: Fabbaloo
If you are new to 3D printing, we are sure you have encountered numerous print failures. Thankfully, this is not something new or unique. It happens to even the most seasoned users. But obviously everyone wishes to improve their 3D printing skills and so knowledge of 3D printer failure detection becomes essential, and this is exactly what we will cover in this article.
3D printing and failures​
Because 3D printing is rapidly becoming popular in a variety of industries, it is critical that every student, as well as manufacturing and design professionals, understand the technology. Though you may not need to understand its complexities, having a working knowledge will help you in your career.
3D printing is a manufacturing process that converts a digital CAD file into a three-dimensional physical model by layering thin layers of material one on top of the other. This is also known as additive manufacturing because material is added rather than removed, as is the case with most conventional technologies.
However, 3D printing is still in its early stages and thus prone to failure. DIY and desktop 3D printing, in particular, frequently fails, and users must use a trial-and-error approach to eliminate or reduce failed prints.
Failures often happen​
While new users may be discouraged by frequent failures, rest assured that failures are an inevitable part of 3D printing. If your prints are frequently failing, you are not alone. Many users encounter this problem early in their 3D printing journey, but the goal is to learn from the failures and reduce or eliminate them.
Reducing or eliminating failures can be simple at times and difficult at others, but if you learn from your mistakes, you will undoubtedly increase your success rate. We'll go over how you can improve your 3D printer failure detection and reduction skills. We will also discuss how AI-powered 3D printing failure detection features will help you in such scenarios.
AI-based 3D Printer failure Detection​
Obico AI-based 3D Printer failure Detection/Courtesy: Obico
The use of artificial intelligence is still relatively new in many fields, particularly 3D printing. However, Obico (formerly The Spaghetti Detective) was the market's first to offer AI-based failure detection. Its AI-failure detection system is by far the most comprehensive and effective in the industry.
You must understand that in order for AI to work in conjunction with machine learning, a large number of datasets are required. And, with its massive database, Obico leads the market. Obico has watched over 7 million hours of 3D printing, caught 800,000 failed prints, and saved over 18.5 kilogrammes of filament as of the time of writing this article. This level of data and reach is unprecedented in the industry.
A camera is used by Obico's AI-based 3D printer failure detection. Without this essential tool, you will be unable to detect and eliminate failures. As a result, you'll need to install a camera in your 3D printer. If you already have one, you're good to go, but if you don't have one or haven't decided yet, you can read our article on the best cameras for OctoPrint to make an informed decision.
Obico interacts with the camera and takes pictures of your printing operation every few seconds once you have one, and then uses a machine learning algorithm to predict failures. With its massive database, the AI can notify the user of potential failures and even carry out some actions. You can see the AI 3D printer failure detection in action right here.
Failure Detection Notifications​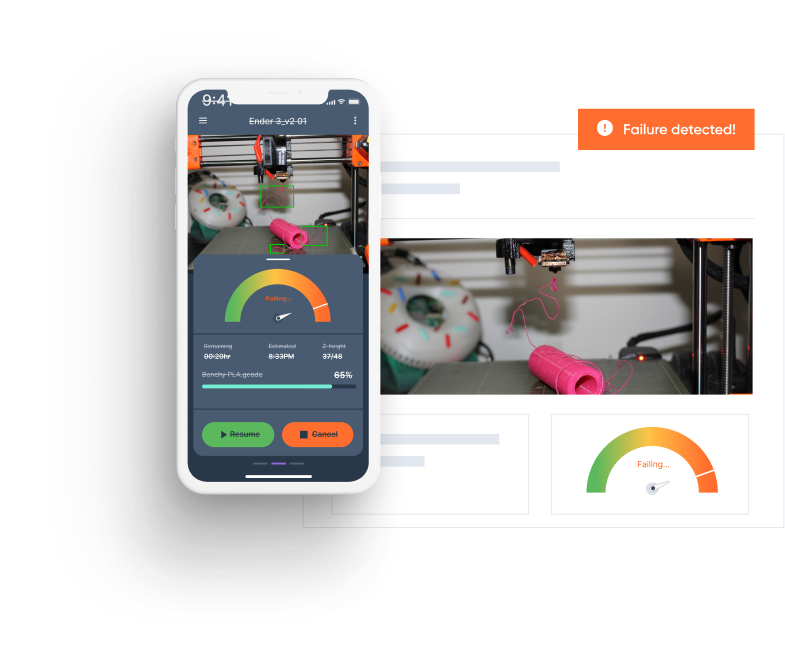 Obico UI for AI failure detection/Courtesy: OctoPrint Plugin Repository
As previously stated, the AI will notify users of failures, and with Obico, there are multiple methods for failure notification. We'll go over them in more detail below. Depending on your preferences, you can use one or more options to ensure that you do not miss important notifications.
Mobile app push notification​
Smartphones are ubiquitous, and most of us use a variety of mobile applications. If you want to use Obico on your smartphone, you can download its app. Obico has a mobile app for both Android and Apple devices. When you install the app and enable the app notification, you will begin receiving push notifications such as when a print starts, stops, or a print failure is detected, among other things.
Other Notification Channels​
You can also configure your email to receive notifications if you use it frequently. Once configured, you will receive the following emails:
If Obico discovered anything during this print, you will notice: The Detective found possible spaghetti for this print.
Otherwise, you'll notice: The Detective found nothing fishy for this print.
Other channels you can configure notifications for include the Discord, pushbullet, Pushover, Slack and more. You can get unlimited failure detection and print status notifications with the Obico free plan. SMS notifications are reserved for the Pro plan.
How to get started with 3D printer failure detection​
Now that you understand why you need 3D printer failure detection and how to receive notifications, let us move on to getting started with Obico and installing it.
To use Obico, you must first install and configure OctoPrint with Marlin or Klipper firmware (via the Mainsail/Fluidd UI).
Setting up Obico for OctoPrint​
The first step here is to install OctoPrint in your local computer. If you are new to OctoPrint then check out our easy guide on how to setup OctoPrint for marlin.
Once OctoPrint is installed, you need to install the Obico plugin from the OctoPrint plugin manager.
Next sign up for the Obico account. Here you can sign up using the Obico mobile app or directly from the Web app.
Then launch the link printer wizard to connect your 3D printer with Obico. Here, you can even rename your 3D printer.
Now that your printer is connected, you can check your printer feed by clicking the "Go Check Out Printer Feed!". You can check the webcam feed, heater temperature, time remaining on the print job, and more!
Once you verify if everything is in order, you are now ready to test the magical AI-powered 3D printer failure detection feature.
Setting up Obico for Klipper​
The first step here as well is to install OctoPrint in your local computer.
The next step is to install the download Obico plugin for Klipper from the OctoPrint plugin manager and run install.sh
After this you have to follow a set of instructions as detailed in our article on Klipper setup.
Next, follow the signup steps for Obico via a mobile app or web app.
Launch the link printer wizard to connect your 3D printer with Obico.
Choose the firmware on the next screen and when you choose Klipper, you will see a 6-digit verification code. Use this code to link your 3D printer.
Go back to the SSH session (step 1). Enter the 6-digit verification code and opt in for bug reporting.
Now you can verify if everything is in order, test the AI-powered 3D printer failure detection feature.
Additional features​
Smart 3D printing/Courtesy: Obico
Obico is not limited to 3D printer failure detection; it also provides remote monitoring and control, webcam streaming, notification and status updates, the Obico cloud, and much more.
Remote monitoring and control​
Obico is well-known for its remote monitoring and control software. Obico allows you to easily monitor your printer, send commands for specific actions, and control your 3D printer. Because you can receive updates on the print status, you can take corrective action and thus control the printer. Obico allows you to control your printer from anywhere in the world, using any device.
Webcam Streaming​
In addition to controlling your 3D printer through commands, Obico also lets you live stream your webcam from anywhere in the world. It offers unrivaled seamless, lag-free, and high-quality webcam streaming, and you can monitor your 3D printing in real-time from any location.
Obico's team recognizes that casual users may not require many resources to stream their webcam and monitor the prints. As a result, Obico offers a free plan with high-quality webcam streaming. The Free plan supports up to 5 frames per second and only plays videos for 30 seconds.
3D Printer Notifications and Status Updates​
Receiving regular notifications about the status of the printing process is just as important as having a remote monitoring feature. You cannot alleviate your anxiety solely by relying on the algorithm. Obico recognizes this and has built-in notifications and status updates that send push notifications to you, the users, whenever you want.
Push notifications, as well as Discord, Slack, Pushover, Pushbullet, email, and SMS, can be configured via the mobile app. Regardless of plan, you can receive an unlimited number of Printer Status Notifications (Free or Pro). To top it all off, each notification includes a print snapshot!
Obico Cloud​
Obico Cloud is one of the easiest cloud hosting solutions to use, allowing you to manage multiple 3D printers at the same time! Obico cloud does not require any server hardware because it is hosted in the cloud. As a result, there is no need to install or use a public IP, firewall, or DNS on a computer. You can save money on bandwidth and electricity costs.
Because Obico is open source, you can host your own Obico Server! Some technical skills and additional hardware are required, but it is fully customizable so that you can customize it to your liking (with no added costs).
You can gain clarity by comparing self-hosting versus Obico Cloud. Alternatively, you can read the self-hosting information to learn what skills are required to self-host an Obico Server or you can get started with Obico Cloud for OctoPrint or Klipper